The 56th PMCC Convention, in Reno, NV
The PMCC Convention returns to Reno for the first time since 1990.
Everyone is invited to PMCC's 56th Annual Convention on Jun. 26—29, 2017. This convention will be held at the:
Best Western Airport Plaza Hotel
1981 Terminal Way
Reno, NV 89502
New!
The 2017 PMCC convention will be held in Reno, Nevada next June 26 through June 29. The convention will be a Monday-Thursday event. Host site will be the Best Western Airport Plaza Hotel, which is within walking distance of the Reno Tahoe International Airport. Shuttle service, however, will be available. The sleeping room rate will be $69.99 plus tax per night with the special rate available both before and after the convention to allow attendees to make Reno an extended vacation headquarters. Rooms can now be reserved by calling the Airport Plaza Hotel at (800) 648-3525 and asking for the PMCC rate.
There is much to see and do in the Reno area. Lake Tahoe, Virginia City, Carson City, Pyramid Lake and the Sierra Nevada are just minutes away. Or, if you wish, there is no need to leave Reno since there are many attractions in the city including several very nice hotel-casinos featuring big-name entertainment, museums, a planetarium, parks and walking paths along the scenic Truckee River, AAA baseball (Reno Aces) and, of course, the annual convention of your Post Mark Collectors Club!
Access by air to all areas of the country is provided by a wide selection of airlines. Air carriers serving Reno include Southwest, United, American, Alaska, Delta, Allegiant, Volaris (if you are flying in from Mexico!) and Jet Blue. Amtrak service to Reno is also available, with complimentary transportation to the hotel provided by convention hosts.
Mark your calendars and prepare to attend what promises to be an exciting and productive convention- it will be 'the biggest little' convention in the "Biggest Little City in the World". As they used to say: "Be there or be square"!
See the
PMCC's Convention History
.
What we do at a PMCC Convention
Every year some devoted PMCC locals book a hotel, assemble the details (no small task!), and invite us to explore their corner of the country. There are tables of free postmarks, a couple of philatelic auctions, an ice cream walk, and good friends. It's like a family reunion, complete with t-shirts—albeit one with its own postal station and pictorial cancellation:
We don't just sit around, however. Every year we visit some local post offces. In 2010 we took the ferry to Block Island, RI and in 2011 we took the mailboat to Smith Island in Maryland. 2012: visiting a post office in Missouri.
There are tables of philatelic material—much of it free for the taking! We usually have a table devoted just to pictorial cancellations:
The PMCC Convention also features two auctions, one silent and one emceed by some long-time members.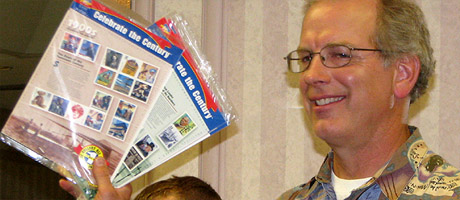 Even if you're not the primary collector in your household, you'll probably enjoy yourself.
There's a banquet dinner every year. The Director presents plaques for long-time PMCC members and awards to those who have greatly aided the organization during the past year.